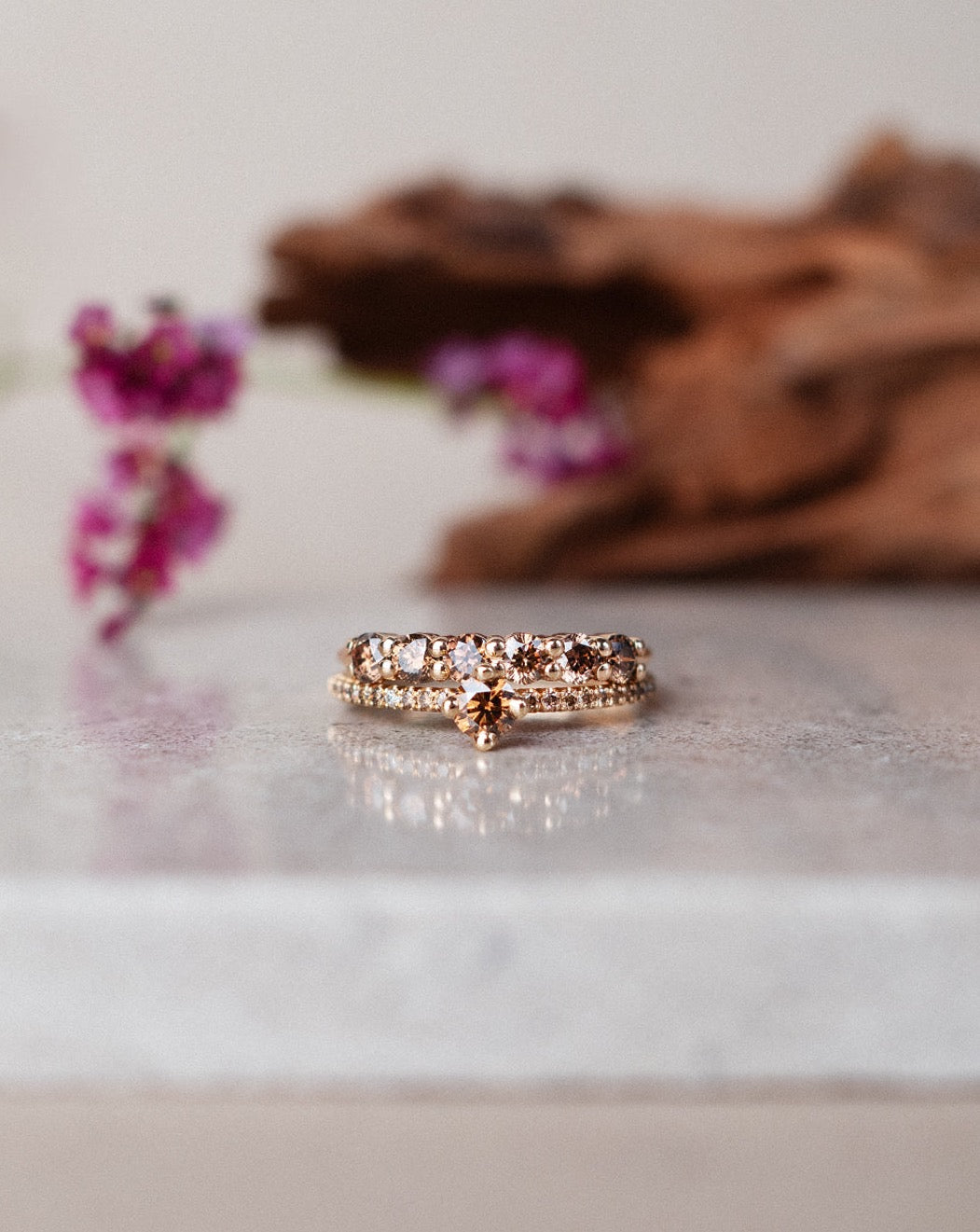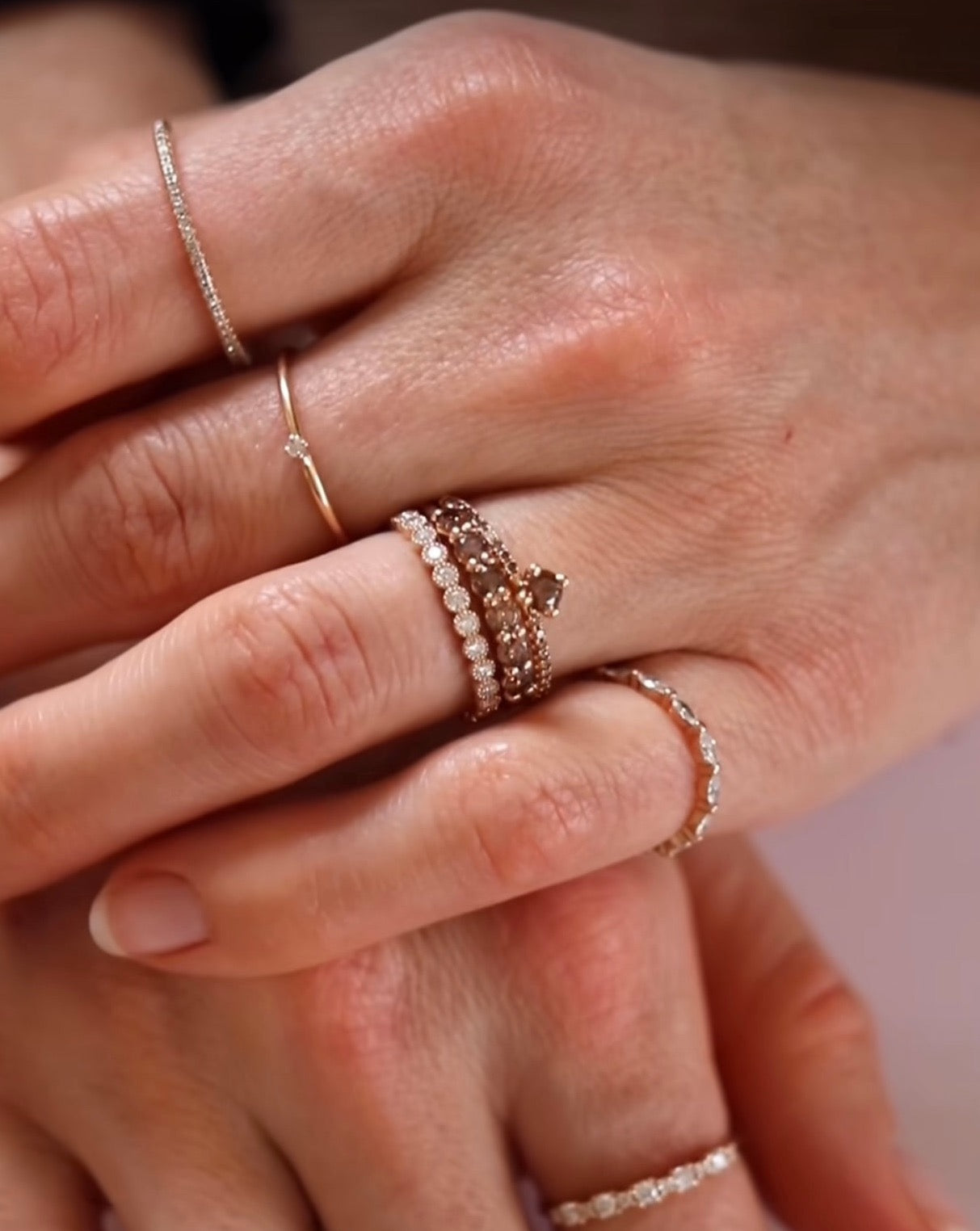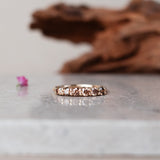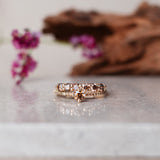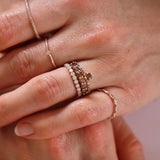 Mini Angel Ring with Dark Chocolate Diamonds
Need help finding your perfect ring size?
---
Why you'll love it
This stunning ring is the little sister of our signature Angel Ring.
Mini Angel Ring has slightly smaller diamonds and a thinner ring band than Angel Ring.
The six diamonds sum up to a total of 0.60 CT.
Why the name Angel ring?
Cecilia writes:
The five diamonds (in Angel Ring) symbolize angel number five - which is about positive change, health and wellbeing. It's about attracting important and positive experiences into your life. Five – the symbol of balance! The sixth diamond in Mini Angel Ring symbolizes your own inner strength and ability overcome whatever challenges life throws at you.
Diamonds

Diamonds rank a 10 (highest) on Moh's Scale of Hardness.
Diamonds are extremely hard and durable gemstones that will withstand daily wear for generations to come
Chocolate diamonds are naturally brown diamonds.
Brown diamonds can range in hue from light to darker, resembling the color of champagne and chocolate. Chocolate Diamonds have a luxurious tone that reminds us of rich chocolate.  
Colorless (white) diamonds typically lose their value if they tint towards another color, but these brown diamonds are specifically sought out for their beautiful, natural coloring.
We use only natural, conflict-free diamonds certified according to the Kimberley Process.
The round brilliant cut is the most popular diamond cut in the world - more than 70 % of all diamonds sold are round brilliant cut. Which is not a surprise, as it is the gemstone cut that best reflects and disperses light.
Stacking

This ring is beautiful stacked with other rings.
Here stacked with:
- Not At All Tiny Sparkle Ring with Dark Chocolate Diamonds
Details
Handcrafted in Sweden from 100% recycled 18K gold.

Six 0.10 CT Brilliant Chocolate Diamonds, summing up to a total of 0.60 CT.
1.3 mm round ringband. 

We use only natural, conflict-free diamonds.
Size and Fit
The round, thin ringband makes this ring comfortable to wear. 
Mumbaistockholm Ring Size Guide 
To try the ring on before purchase, we are happy to welcome you into our showroom.
Production and Delivery
Handcrafted in our studio in Sweden.
Please allow 5-7 weeks for production and shipping.
All mumbaistockholm jewelry pieces are final sale.
---
Mini Angel Ring with Dark Chocolate Diamonds
Size & Fit

Free Sizing Kit

Ensuring your perfect fit, effortlessly. Simply add it to your cart at no extra cost!

Perfect Fit Promise

Once in your hands, this ring offers the flexibility to fine-tune its size for a perfect fit.
Production and Delivery

Crafted with Care

Kindly allow 6-7 weeks for our artisans to handcraft your unique piece in our studio.

Special Date in Mind?

Should you have a particular date you're aiming for, kindly mention it in the text box during checkout. While we strive for perfection, please understand that we cannot guarantee delivery on that exact date.

Final Touch of Luxury

Please note, all mumbaistockholm jewelry pieces are final sale, embodying our commitment to crafting timeless treasures.